Yoga With Debs
Yoga With Debs offer yoga classes for everyone, from babies to adults, in the southside of Glasgow!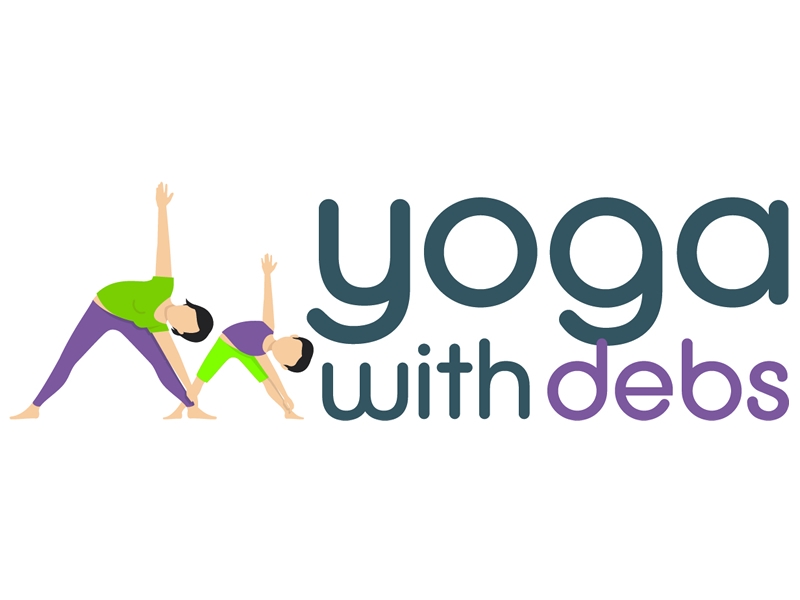 About Yoga With Debs
Having discovered yoga in Australia in 2001 I have realised its potential to enhance my well being physically, emotionally and mentally.

Arriving back in Scotland in 2010 I was fortunate to find the Seasonal Yoga Academy and began attending 3-4 weekly classes in seasonal, vinyasa and Ashtanga yoga.

The instruction I received from my teachers was without doubt the beginning of my true yoga journey and I began to develop a community of like minded yogis who I learnt so much from.
It was a suggestion by various teachers that I consider doing my 200 hour teacher training that got me thinking about the career I wanted for myself.

Having always enjoyed working with children and having a strong belief in making things better for them in this world it seemed natural to combine two of my passions – yoga and children and young people.

My journey training to be a teacher has been an inspiring one. It has motivated me to do reach more and extend my classes to teach all age groups from babies to teens and adults; yoga gives us the understanding and practical applications to be the best people we can be and to live by our values; it is an honour to be part of this and I look forward to sharing it with you.


Seasonal Yoga Flow for Adults
Where:
Netherlee Church
When:
Tuesday 7-8.15pm
Bookings or drop in options, please bring your own mat. Blankets and blocks provided.
Suitable for all including beginners.
The concept of Seasonal Yoga Flow was created in 1995 by Julie Hanson and Sue Woodd as an antidote to the stress and anxiety of modern life. It combines Yoga, Tai Chi, Chi Kung and a modern understanding about body movement, with Traditional Chinese Medicine ideas about the changing nature of the seasons around us, and within.
Within traditional Chinese medicine, a holistic, integrated system of thinking, each season corresponds to an element, a life stage, a color, a shape and a time of day, as well as to aspects of the individual, such as emotions, activities, internal organs and the senses.
This holistic, interconnected philosophy can guide us in tending to our health seasonally and help keep our bodies in better harmony.
Children's Yoga Classes
Where:
Broom Church, Newton Mearns & Seasonal Yoga Academy, Glasgow
When:
Wednesday 6.15-7.15pm at Broom Church / Thursday 4-5pm at Seasonal Yoga Academy
Children live in a busy world the same as adults. Helping them to be still, to feel good and feel balanced provides them with essential life skills. These classes are aimed at 5-12 year olds. From there they can move to Teen Yoga.
Yoga can benefit children in so many ways...
Feeling stronger, fitter & more relaxed
Building their strength & flexibility
Developing their confidence & self-esteem
Improving their balance & coordination
Sharpening their concentration
Sparking their creativity & imagination
Sleeping better
And of course it's lots of fun!
Outdoor Family Yoga
Where:
Queens Park (Tues) and Bellahousten Park (Thurs).
When:
1.15pm - 2pm
Outdoor family yoga at Queens Park (Tues) and Bellahousten Park (Thurs). Hosted by Parklives.
Parent and Baby Classes
Where:
Broom Church, Newton Mearns
When:
Friday 9.30am-10.15am (Parent and Toddler) / Friday 10.45am-12pm (Parent and Baby)
Parent and Baby classes are suitable for babies 12 weeks – 9 months and there mums or dads or other guardian (this is an approximate age for the babies; when they're on the move they progress to the next baby yoga class designed for mobile babies, then then to Toddler Yoga classes).
Classes help to attune to your baby's needs and to calm or stimulate them as appropriate with a sense of security and wellbeing.
It is beneficial for all babies, you don't need to practice yoga or even know anything about yoga to get started with your baby.
From birth babies respond positively to the stimulation of movement and touch together. Baby yoga includes a wide range of different practices that can be combined to suit the needs of each baby or toddler through their individual development.
Baby yoga offers quality physical stimulation that has become essential in an urban sedentary lifestyle. For every hour that babies spend strapped in cars seats or home seats, 5 minutes of Baby Yoga provide stretching as a start to a healthy lifestyle. Baby yoga can be practiced instantly anywhere at anytime and always generates a joyful interaction.
Toddler yoga is a continuation of baby yoga for mobile babies mobile babies, toddlers and pre-school children. Using songs and rhymes alongside plenty of movement and stretching, this yoga set is designed to support the transition from babyhood to more developed forms of self-expression through movement. As babies make this transition to independence, physical contact with their parents is often diminished yet remains very important. Smart toddler yoga promotes strength, flexibility and balance. Relaxation and energetic activity are contrasted and balanced providing a foundation for a healthy lifestyle.
The together aspect of this yoga sustains loving and playful contact, continuing a mutual focus between parent and child. Toddler yoga provides a positive shared routine to carry young families through what can be a challenging time as they tackle tantrums and boundary testing. Toddler yoga classes provide an opportunity for parents to exercise and have fun with their children.
Tween Yoga Classes
Where:
Parklands, Newton Mearns
When:
Thursdays 7pm - 8pm
Being a tween can be tough. Bodies are changing, they become more peer-focused, and friendships deepen. Communication gets a little more subtle. and there are new expectations about roles and responsibilities. Homework becomes more challenging, there's more of a timetable of lessons and more emphasis on how well they are doing. They start caring more about what they look like and they seek to emulate others. Reality becomes more important than the realms of imagination as they move into the real world.
Yoga for tweens provides a bridge between childhood and adolescence. Yoga helps them understand what's going on, giving them time to step back from the everyday, and it helps them see themselves and their bodies better in the context of their new reality.
Teen Yoga Classes
Where:
Tesco Community Room, Silverburn
When:
Mondays 4.15pm - 5.15pm
Aside from the physical benefits of yoga, yoga teaches teens techniques for coping with the unique issues they're faced with everyday—insecurity about their changing bodies, the enormous pressure to fit in, stressful schedules, and uncertainty about their beliefs and their futures.
Movement, and therefore yoga, is essential for fast-growing bodies.
The practice of yoga offers adolescents a discipline for discovering who they truly are. Beginning that process at a young age can shape who a teen becomes.
Teens can tell that yoga rewires them and gets them to their center, to the essence of living. They also sense that yoga gives them a reliable resource to shape their developing philosophies and aspirations.
It's about nourishing their imagination, asking for their insights, and then genuinely listening to what they have to say.
Yin Classes
Where:
Run4It, Giffnock
When:
Mondays 7.15pm - 8.30pm
No yoga experience required. A Yin yoga class usually consists of a series of long-held, passive floor poses that mainly work the lower part of the body - the hips, pelvis, inner thighs, lower spine. These areas are especially rich in connective tissues. The poses are held for up to five minutes, sometimes longer. Why do yin? - Calms and balances the mind and body, reduces stress and anxiety, increases circulation, improves flexibility, releases fascia and improves joint mobility and balances the internal organs and improves the flow of chi or prana.
Bookings essential for all classes.
All information (whether in text or photographs) is supplied in good faith but should not be relied upon as being a statement of representation or fact. We take every opportunity to ensure the details for Yoga With Debs are accurate, please contact us at hello[@]whatsonnetwork.co.uk if any of the above information is incorrect.
Upcoming Events at Yoga With Debs
Sorry, but we have no upcoming events for Yoga With Debs. If you know of an event taking place at Yoga With Debs or anywhere else in Glasgow
tell us about it
and we'll list it on the website, for free!